Stand Out In The Age Of The Consumer
Connecting With The Most Powerful Force In The Marketplace
The book that will turn your thinking about brand influence inside out.
Throw the old linear sales funnel (along with your mass media buys) out the window of a fast moving vehicle over a large body of water.
Wrap your head around who makes or breaks your brand today (hint: it's not you).
Feedback from your biggest influencers is more attainable than you think. Integrate it organization-wide.
Consumer trust in one another hasn't changed since ancient times, but the communication tool has.
Consumers trust one another more than any other source of information. This defines the Age of the Consumer.
Stand Out in the Age of the Consumer addresses how the Internet has changed consumer connection and decision-making.
Authenticity now moves markets. That authenticity can be found in product reviews. They come directly from consumers who have purchased and are reporting on performance.
The reach of a relatively small number of sites (Amazon, Zappos, Walmart, Home Depot and Best Buy to name a few) is impressive. They are now publishing houses and consumers who write reviews are using them to reach a huge audience. That audience trusts them when evaluating a product purchase. Mass advertising, on the other hand, is dramatically losing its effectiveness due to its perceived lack of credibility. Yet billions continue to be spent reaching an increasingly uninterested audience.
This book delves into the evolution of the state of influence today, and is a must-read for modern brands and manufacturers.
For press inquiries or to receive a copy for review, fill out this form.
Advanced Praise
"Kirwin Really Knows!"

"I like the clear and straightforward organization of the book. Paul Kirwin has been practicing market strategies for over three decades, sharpening practices and teaching them to clients for their benefit. This book is a must read for PR experts and persons wanting to understand the marketplace. Every business person should give their clients a gift by reading and considering the practices in this book." — Cy

"Read it before your competition does"

"In the ever-evolving world of marketing, Paul Kirwin always seems to be two-steps ahead. Standout in the Age of the Consumer is a concise and insightful analysis of the impact of consumer reviews. It's a powerful read with new ideas that could benefit any online business. I had the good fortunate to mentor under Paul before starting my own business and credit him with much of my success in business, and later in politics. He is a master 'storyteller' and has a nose for new delivery channels. In the past decade marketing has gone digital, data collection has taken a quantum leap, and every consumer is an expert reviewer. Once again Paul has spotted the trends, identified new opportunities, and is sharing his insights. Read it now before your competition does." — Andy B.

"Product development is not just about consumer feedback any more"

"Short, sweet and to the point. No question Paul's book will open executive eyes to the invaluable recurring roll customer reviews play in driving exceptional product." — Andrew I.
Author Paul Kirwin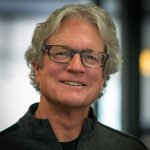 Paul has followed what the consumers have trusted for over 40 years, always on the cutting edge of what's next. His days in the news business and his founding of Kirwin Communications and 3Point5 (now ExpertVoice) led him to the idea for Channel Signal. Paul is a Rocky Mountain Emmy award winning writer and director. Under his direction Kirwin Communications won regional and national awards in most media including Addys for video, radio, billboard, print and cross-media. In 2010 he was named one of the top ten most influential people in the outdoor business.
For press inquiries or to receive a copy for review, fill out this form.