In 2011, Patagonia changed the game. Placing a full-page ad in The New York Times with a bold headline proclaiming "DON'T BUY THIS JACKET" the company emphatically put a stake in the ground in opposition to Black Friday. Sales rose by 30% following the ad (in contrast to its intent), and to this day, the outdoor retailer donates 100% of Black Friday revenues to environmental protection groups.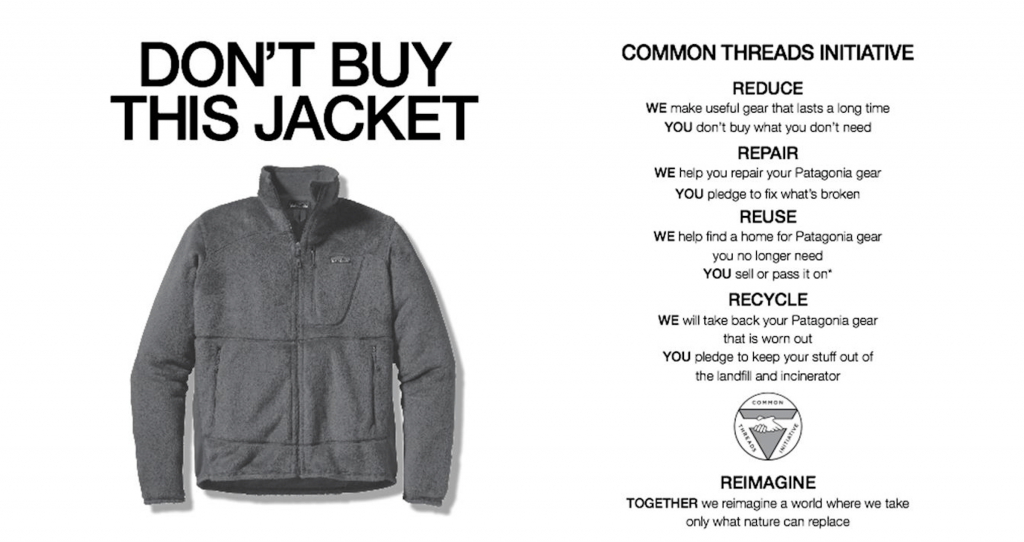 Other brands have followed suit. Since 2015, REI has chosen to close for Black Friday—part of its #OptOutside tradition to encourage its employees (who are paid for the day) and customers to get outside. TenTree, the sustainable fashion brand, celebrates Green Friday–aiming to plant 1 million trees from Black Friday sales. And clothing brand Everlane is helping to turn the tide on plastic consumption to raise $300,000 to support Oceana—enough to fund a full year of their campaign efforts. 
These anti-Black Friday campaigns are all in an effort to quash a day born from a dark past and has spiraled into a frenzied day of consumerism, often with violent outbreaks—14 deaths in the U.S. have been attributed to the event since 2006. Black Friday dates back to 1869 and marks the day gold prices plummeted, causing a market crash—the effects of which were felt by the economy for years. The term came back into the lexicon in the 1950s, as noted by the Philadelphia Police Department: 
"Black Friday" officially opens the Christmas shopping season in center city, and it usually brings massive traffic jams and over-crowded sidewalks as the downtown stores are mobbed from opening to closing.
Over the years, the day was given a more positive spin to connote that the surge in sales was enough to put retailers "in the black" for the year and was bookended by Cyber Monday (in 2006) to keep the good sales rolling. And while there's no denying that this is an important milestone in the annual sales calendar for retailers—the NFR reported that 186.4 million U.S. consumers shopped in-store and online from Thanksgiving Day through Cyber Monday last year—the movement toward social good is also emerging as a differentiator for brands. Those that can strike a balance between living up to their core values while being empathetic to people and the planet are putting the heart into Black Friday. And consumers are paying attention.
A survey from the Kearney Consumer Institute from May 2021 shows that consumers favor honesty and authenticity even above product quality. With supply chain blockages threatening to disrupt shipping and inventory throughout Black Friday, Cyber Monday, and the holiday shopping season, brands must maintain honesty and credibility by tapping into consumer sentiment to understand the target customer. By understanding what your consumers care about and listening to what they are saying to other consumers, you can build trust by reacting in near real-time and fixing any issues. Looking back at Patagonia, it has built a strong base of consumer loyalty, and its counterintuitive marketing strategies land with the target market because consumers trust the brand. So, how can you start to foster trust? By listening to your consumers and what they are saying about your brand through product reviews. Reviews deliver an opportunity for brands to discover what consumers are saying—what they like and dislike about your products, how they were handled by customer service, shipping times, price increases, and more. 
The pandemic caused a sea change in business. Consumers caused much of it by changing the way they shop and interact with brands. Now earning their trust is the key. Some brands will close on Black Friday, and their customer base will applaud, and others won't close, and their customers will appreciate the good deals. No matter, once Black Friday and Cyber Monday are over, the drumbeat and power of reviews will continue.