What started as a platform simply to share photos—by Stanford students Kevin Systrom and Mike Krieger—now has over 1.4 billion users worldwide, with 140 million in the US. Instagram has exploded from its humble beginnings, with the first image of a stray dog posted just over 11 years ago. It has now grown to include videos, Stories, and Reels and nurture an entire generation of influencers and captive shoppers ready to hit the Buy Button.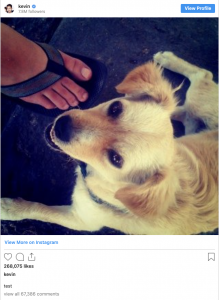 The emergence of social shopping
Beyond Instagram, social e-commerce gained serious momentum during the pandemic—a trend that's expected to keep evolving in 2022. With changing consumer habits—read hours and hours of scrolling during those early lockdown days—and the fast-tracked digital transformation of the retail industry, social shopping is becoming part of the new normal. Facebook provides retailers with online storefronts where people can browse, explore and purchase products directly through the platform or brand website. Pinterest has buyable pins to promote items for sale. And we can't forget about TikTok—since it came on the scene, pre-pandemic, it has boomed! It's now the most downloaded app in Apple's App Store, and users spend over $42 million through the platform each year. What makes social shopping unique is that users want to see advertising, with about 70% discovering products through posts and videos. Add to that the fact that users have reasonably high incomes– 31% of Instagram users earn more than 75K per year – and it's a no-brainer for brands to sell products to this captive, global audience. 
With these considerations, product reviews are more important than ever. New customers to your brand especially will seek guidance from other consumers and consult reviews for advice on sizing, shipping times, customer service, and more. Consumers can learn more about products right in the app and click through to complete the transaction on your brand.com or purchase directly on Instagram (using Checkout). In the former case, once the consumer clicks to the product page, you want to provide them with transparent info, right at the Buy Button, to help speed the path to purchase. 
The power of product reviews
And this is where the Consumer2Consumer Score (C2C Score) can be a game-changer for e-commerce brands. When shoppers click on your product page from a social platform like Instagram, you can deliver an aggregated score of product reviews right at the Buy Button. Here's how it works: By collecting and cleaning, removing duplicates, and validating thousands of verified purchases from all major e-commerce sites, the C2C Score combines the three pillars of online reviews—star averages, customer sentiment of major performance concerns, and recency. Shoppers benefit from a simple, visual cue that helps guide them, from 'Good Option' to 'Reconsider.' With a quick scan of the score, shoppers understand that the reviews are user-generated, verified—and it delivers an independent assessment. All of this brings a level of trust and transparency to the shopping experience because consumers trust each other.
As we roll toward 2022, there's no denying that social shopping will be a force to be reckoned with across Instagram, TikTok, Facebook, and beyond. Brands that trend ahead of the curve will turn reviews into revenue. Learn more about the C2C Score. 
Ready to learn more? Book a call with our CEO Paul Kirwin to to explore the possibilities.