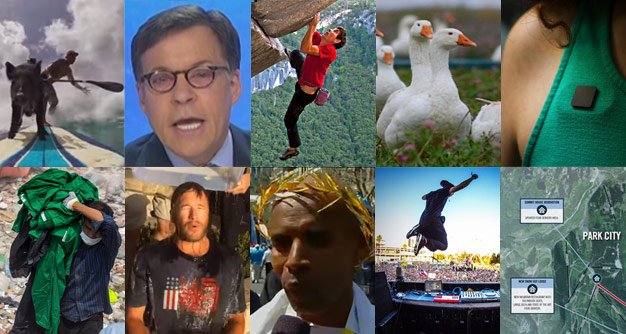 It's difficult to believe it's been a year since we recapped the top outdoor stories of 2013. Time sure does fly when you're having fun in the outdoors. Alas, it's time to reveal the most talked about moments by consumers this year.
Channel Signal documents online consumer comments on social media (i.e. Twitter and Facebook), blogs, and traditional online media. The stories below were important for this article directly due to these types of consumer conversations about the topic…not just because they were featured on the evening news.
Consumers have the power. Get to the conversations that matter with Channel Signal.
10. Vail Resorts
In the past two years, Vail has shaken up the Utah ski industry with some big moves that were hard to ignore, especially if you're a local. First, they took over operations at Canyons Resort. Then, a long lease battle between Park City Mountain Resort (PCMR) and land owner Talisker ended in Vail purchasing the resort this summer.
Although there are some great things that this and other Vail acquisitions bring to the ski community, at the end of the day, many consumers think that Vail is going to do what's best for its shareholders first. That was evidenced by its decision to oust a local coffee company in favor of Starbucks at PCMR, among other decisions. Regardless of your opinion, consumers have definitely taken to social to vent about Vail this year.
Vail resorts buys Park City Mountain Resort for $182.5 mil, plans to connect PCMR to Canyons in 2015: http://t.co/2nRCFd0xfq

— ESPN Snowboarding (@ESPN_Snow) September 11, 2014
OMG: Vail to invest $50M, connect Park City & The Canyons by gondola http://t.co/DS3NpNpzrS
— Brian Ries (@moneyries) December 8, 2014
Nice job, assholes http://t.co/vmQnFuCbwp

— Anna Borgman (@anna_borgman) November 12, 2014
.@VailResorts $50 million plan for joining @PCski & @TheCanyons: http://t.co/Hc8pOlcCeh http://t.co/EahIgIfU6B
— OnTheSnow.com (@OnTheSnow) December 10, 2014
9. Music Festivals
From Coachella to Glasgow, music festivals are one of the top social topics in the outdoor industry. While at the festivals, attendees like to post about their favorite artists, shows and the festival scene in general.
Another huge part of the music festival conversation online is FOMO, or Fear of Missing Out. According to research done by Eventbrite, one in five music festival conversations is from people who only wished they could have attended. One in four posts came from people participating in the festival remotely by watching videos and live streams.
"@3LAU: My god #EDCOrlando
Photo by @dougvansant http://t.co/oypTt1ufSU" #fomo I want to live at a #music #festival forever. #edm

— Leah Breitbarth (@leahbreitbarth) November 7, 2014
Surprise performance from @justinbieber and @chancetherapper at coachella. #confident http://t.co/SsmChsA829
— Scooter Braun (@scooterbraun) April 14, 2014
8. An American Win in Boston
In the wake of the Boston Marathon bombing just last year, an inspiring story emerged as the first American won the race since 1983. Meb Keflezighi moved to America from the African nation of Eritrea when he was 12, escaping a life of poverty and war.
When he won the Boston Marathon this year, it was Patriot's Day, and the one year anniversary of attacks that killed four people. He wore their names written on his bib. "They helped carry me through," he said in a USA Today article. Crossing the finish line, he kissed the ground three times and burst into tears. Social media was touched. The conversation about the Boston Marathon Bombing has been heightened in recent days as the suspect Dzhokhar Tsarnaev had his first public court appearance in over a year.
For the first time since 1983 an American man has won the Boston Marathon! Congratulations Meb Keflezighi!

— Boston Marathon (@bostonmarathon) April 21, 2014
https://youtu.be/42A1mCHLflg
Boston Marathon bombing suspect to make court appearance – a year and a half after the tragedy http://t.co/dVM3sowbeL pic.twitter.com/mZ6m4elEbY
— ABC News (@ABC) December 18, 2014
7. Athletes & Ice Buckets
The ALS Ice Bucket Challenge was one of the biggest social media stories across industries this year. It made such a ripple, it's hard to ignore it no matter what vertical you're in.
Athletes were some of the first to jump on board the Ice Bucket train, which raised $115 million to fight Lou Gehrig's disease. From Lebron James to Roger Goodell, the bigger the name, the better the challenge. Here are a few of our favorite Ice Bucket Challenges from the outdoor industry.
https://youtu.be/YadQEE0HqUA
6. Bangladesh Factory Fire
From June through August, Channel Signal documented quite a bit of consumer chatter about a fire at a factory in Bangladesh which injured 50. In the last two years, "over 1,500 Bangladeshi garment workers have died in preventable factory disasters". Outdoor companies such as Vanity Fair Corporation—which owns The North Face, Timberland, Jansport and more—came under fire for endangering Bangladeshi garment workers under unsafe conditions.
According to reports, a "faulty electrical system" was the cause of the June 2014 fire, and improper exits made for a difficult evacuation. Groups across the U.S. rallied around the cause, protesting and creating petitions for retailers to stop selling the brands. The conversation has slowed although, to date, VF and others have refused to sign the Bangladesh Safety Accord.

At least 14 major North American retailers won't sign Bangladesh factory safety accord http://t.co/PY06PFDy48

— HuffPost Chicago (@HuffPostChicago) May 19, 2013
More than 1,800 garment workers have died working in North Face/ VF Corporation sweatshops. #enoughisenough #REIdropNorthFace
— BC USAS (@BC_USAS) June 25, 2014
5. Wearable Tech
What used to be thought of as futuristic is now becoming a reality, and sports and fitness are a practical application of wearable tech. Here are some of our favorites.
Jawbone: The Jawbone UP connects to your smartphone and provides insight into how you move, eat and sleep.
Oakley Airwave: These goggles are really a mobile dashboard. They connect to your smartphone using Bluetooth and display speed, maps, air time, vertical, music controls and more.
Athos: Not yet available but too cool to pass up, Athos takes wearable tech to a new level. The clothing reads your muscle effort, heart rate and breathing rate and sends all information to your smartphone.
Lumo Lift: Be reminded to stand tall with the Lumo Lift. It coaches your body to better posture with gentle vibrations, while also sending posture, steps, distance & calories to your mobile.
This year, Ikea gave all 14,000 of its U.S. employees a Jawbone fitness wristband. http://t.co/Z3hfgWk6B7

— Washington Post (@washingtonpost) December 19, 2014
Wearing my ski goggles on the plane to see how fast we are going ????????????????#oakleyairwave pic.twitter.com/BoBXQQjvNc
— Eric Klein (@EricKlein41) March 19, 2014
Our #LumoLift sensors arrived today! Can't wait for our family's #posture to become more #noble. @… http://t.co/21o0U6IrGH

— Dan Makoski (@mak0ski) November 1, 2014
4. Responsible Sourcing
Issues like the Bangladesh Factory fire are just the tip of the iceberg when it comes to manufacturers' materials sourcing and processes being revealed to the consumer. And guess what? The consumer actually cares about this stuff. But 2014 saw some good things, where manufacturers took positive steps toward transparency and better practices.
Patagonia, which already gives 1% of profits to the environment, promoted its Worn Wear program with an Anti-Black Friday campaign last month. Both Patagonia and The North Face led the charge on Another big issue this year: goose down. These manufacturers are finally releasing their responsible down campaigns in response to the inhumane treatment of geese (caution: graphic) which was revealed a couple of years ago. The North Face was awarded a PETA award just this month for its ThermoBall line of synthetic down.

@veganfuture @patagonia perfect!!! @patagonia must learn that there isn't sustainable world without veganism!!!
— Felipe UFO (@FelipeUFO) December 21, 2014
3. Alex Honnold
Alex Honnold is, by and large, a household name. He's one of the most famous climbers of all time, thanks to his bold and daring free solo climbs of risky, long routes. His most notable climb is a free solo of Yosemite's Triple Crown: Mount Watkins, The Nose, and Half Dome.
This year, Honnold appeared with several other free soloists in the documentary Valley Uprising. Consumers were outraged and took to social media when Clif Bar dropped the athletes' sponsorship contracts. Clif Bar stated that they would no longer be sponsoring these types of athletes because they don't feel good about benefitting from the level of risk they're taking.
#Wonderful @onemorepost: Alex Honnold taking a rest at 2,000 feet. pic.twitter.com/YbOd7AzkO3

— Κ@§ђ!ƒ @ђм@đ ♐ (@ChaiPaniEtc) December 14, 2014
Not the way we would have guessed Valley Uprising would first show up the New York Times. An interesting piece… http://t.co/pUYg1xjbSv
— Sender Films (@SenderFilms) November 15, 2014
2. Sochi Stories
This was the most social Olympics we've seen, and we only expect this to increase in Rio and PyeongChang. From the anticipation of Russian security and social differences, to the games themselves, there seemed to be a new story breaking every hour. Interestingly, a lot of these stories weren't originating in the news. They were breaking when athletes and people at the Olympics would post about them on Twitter, Facebook and Instagram.
Channel Signal was right there, not documenting the news stories, but documenting the Sochi stories from the point of view of the online consumers. We laughed. We cried. We watched athletes get stuck in hotel rooms and avoided thinking about Bob Costas' eye infection.
…With no phone to call for help, I used my bobsled push training to break out. #SochiJailBreak pic.twitter.com/apZRefgvCO

— Johnny Quinn (@JohnnyQuinnUSA) February 8, 2014
Who ya' gonna call, Bob Costas? pic.twitter.com/rVyAHplVcD
— Rummy (@RumfordJohnny) February 11, 2014
By the end of the Olympics Johnny Weir and Tara Lipinski will fuse into a fabulous leafy plant. pic.twitter.com/aSBKz596LG

— Jimmy (@JimmyPrinceton) February 17, 2014
1. Consumers Themselves
From GoPro's to Drones, it's easier than ever for consumers to capture their outdoor experiences. And whether they're on Spring Break or pulling some crazy, "never before done" stunt, consumers themselves are going viral.
Oftentimes, it's just a regular event that is being filmed when something outlandish happens. Having quality, portable video equipment readily available for consumers will continue to generate more and more content that makes consumers internet famous.