Revolutionizing the Way People Enjoy Food & Beverage
Stanley, a brand of Pacific Market International, is constantly working toward its vision of revolutionizing the way people enjoy food & beverage everywhere. The Product Team uses advanced technologies, materials and research to extend their brands into the future while remaining rooted to the past.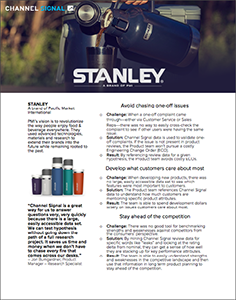 Channel Signal was a natural partner for helping the product team realize their vision. As the leading product review aggregator, Channel Signal helps brands uncover user experience data like never before. This data can be useful within a single brand, multiple brands under one corporate umbrella, or benchmarked against competing brands.
By uncovering powerful market opportunities from a large data set, brands can make decisions that help them stand out from the competition.
Learn how Stanley uses Channel Signal to:
Avoid chasing one-off issues
Develop what customers care about most
Stay ahead of the competition