News Flash: There are Fake Reviews Out There.
In 2016, Amazon made a big push to remove incentivized reviews from its platform. What it actually succeeded at doing is driving those "pay for review" services further into the dark spaces of the internet. The practice is said to be happening just as frequently, if not more frequently, as before.
If you ask Amazon, they'll say that less than 1% of the reviews on their site are inauthentic. Yet some parties estimate up to 9.1% of reviews on Amazon are fake.
Three Reasons That Doesn't Matter
1. People are more adept at spotting fakes than one would think.
Shoppers today are quite discerning. There are a lot of cues they use to determine a fake review vs. a real one.
The reviewer will say so—Many times the review author will disclose that they received free or discounted product in exchange for their review. i.e., "I reviewed this for free in exchange for my honest review".
It's not a verified purchase—This is not available on all platforms but it is on Amazon, and tells readers whether the review is associated with an official purchase on that site.
The language seems "off"—Shoppers can see through broken English and overly positive sentiments. i.e.,"Fits great amazing case it protects my phone really good and theres really fast shipping case lets me show off my gold phone and helps protect it."
2. They're looking through them.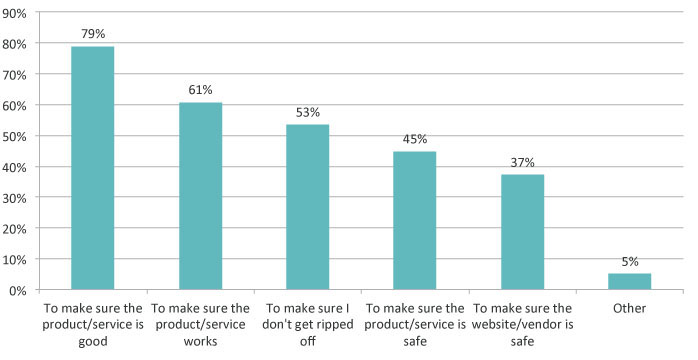 Having been in this industry for many years and through many millions of product reviews, we know a thing or two about how shoppers use them. Shoppers often read reviews to validate their own unique concerns and desires.
If a "fake" review doesn't validate or invalidate their search—and we know that the fake ones are often less specific—the shopper will move on to reviews that do.
Not to mention, people are less likely to trust scores that are overly positive. 77% of Americans try to read an equal number of positive and negative opinions.

3. They use and trust reviews anyway.
82% of Americans say they read product reviews sometimes or always when shopping for a new product. In fact, 45% of them even do so while shopping in a brick and mortar. (Pew)
What's more, shoppers trust product reviews second only to the opinions of their peers.
But here's the thing with that. When seeking the perfect product, a knowledgeable peer might not be readily available with answers to specific questions. The beauty of reviews it that, even though the shopper may have to sift through a small amount of junk, there is a large data set from which to validate their use case and questions.
Bottom Line: As a Customer-Centric Brand, Reviews are Your Responsibility
For these three reasons, and the fact that between 90.9% and 99% of reviews are authentic, it's still your responsibility, as the brand, to monitor them.
Have you seen this video from Will Smith? We thought it was a great one on fault vs. responsibility.
Fake product reviews might be someone else's fault, but as the brand, it's your responsibility to know what 82% of your shoppers are reading about your products.
As a brand who wants to be customer centric, it's your responsibility to ingest your product reviews and turn them into action in the board room. Customers expect you to be listening, and some even use pivot language to indicate that they are directly giving feedback to you, the maker of the product in question.
Disclaimer: in no way does Channel Signal support or forgive the pay-for-review business. It believes that this practice is interfering with a the trust and feedback between the customers and the brands. We implore Amazon to lead the way in squashing those who facilitate this practice so that others will follow suit.