This is an archived post. Channel Signal's product review aggregator can help brands make decisions based on user experience. Check us out at
www.channelsignal.com
.
White Girl Uniform
For better or worse, there is an emerging fashion trend you should know about. It entails wearing technical, high performance apparel in everyday, relaxed settings. To the online social consumer, this has been coined 'the white girl uniform'. It's not a jab at one specific brand. Rather, it's a compilation of brands that make up the uniform. The typical uniform consists of a technical jacket, yoga or stretch pants, a latte, expensive boots, and perfectly straightened hair.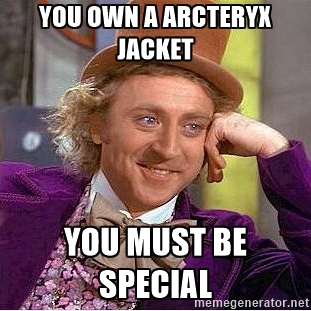 The interesting thing is that each of the pieces of the uniform does not have standalone negative sentiment. The North Face, for example, typically has a positive sentiment when it comes to its highly technical performance apparel. But the fact that this type of apparel is taken out of context to become attire for everyday activities, like shopping at Target or going to school, seems to rub consumers the wrong way. They certainly think it's entertaining to make fun of, anyway.
Dataset
Channel Signal first recognized the trend in March of 2013, and in the three months prior to this article, picked up almost 8,300 'white girl' posts from Twitter, Facebook, Reddit, Forums, Blogs, and dozens of other online publications. These are individual posts, mind you, so the reach is well into the millions. Of the 8,300 opinions, here's the breakdown:
Starbucks / Latte: 8,197
North Face: 8,175
Uggs: 5,495
Yoga Pants / Leggings: 3,963
Straightened Hair: 564
Nike: 455
Mac / iPhone: 419
Other Boots: 336
Victoria's Secret: 89
Lululemon: 24
Trend Sentiment
Consumer sentiment about this trend is mixed. Those wearing the uniform seem to be aware that they're conforming to a trend, but they don't care. They like the style anyway, and frankly, it keeps them warm. Why should an urban commuter in one digit temps not wear the same apparel designed to keep a snowshoer warm?
It's raining! Which means uggs, yoga pants and VS Pink sweater! Aka #whitegirluniform

— Eva (@OhBabyitsEva) September 25, 2014
Hahaha just saw three white girls walking together all wearing uggs, leggings, and north faces #whitegirluniform
— KM€ (@funsize429) March 29, 2014
What's a Brand to Do?
If you're The North Face, Nike, or any other outdoor apparel brand whose social consumer has comandeered your otherwise gnarly image, what do you do? This is a perfect example of an outdoor brand crossing over into the urban apparel space, which has the potential to exponentially increase market reach. To look at it another way, if Coca Cola suddenly had an insurgence of health nuts vying for their soda, do you think they'd turn down an opportunity to advertise in a Whole Foods store?
*All trademarks are property of respective owners.