Or should we say "Year in Reviews"? Channel Signal is all about finding the gold in your product reviews. And it goes beyond the stars. See what we've been up to this past year.

CEO Paul Kirwin's Book Continues to Receive Praise
After it hit the shelves (and ebooks) in October of 2018, Paul Kirwin's book continued to receive recognition for disrupting the way people think about reviews today. Stand Out in the Age of the Consumer will turn your thinking about brand influence upside down. As one reviewer states, "read it now before your competition does."
Bad Review Impact Calculator

2019 was the year Channel Signal started quantifying the impact product reviews have on a brand. While much of the impact is good, and should be measured, the bad reviews actually lose brands money in today's competitive marketplace. Our proprietary impact calculator allows anyone to input a URL from Amazon and calculate the financial impact of the bad reviews for that product.
Survey Reveals Phone Usage Preferred Over Retail Salespeople

New results from a 2019 study say that consumers now utilize and trust information that they get from their phones over that of retail salespeople. In fact, nearly 70% of respondents say they prefer to seek out product reviews on their phone rather than ask an associate about a product.
SFIA Leadership Summit
In September, CEO Paul Kirwin returned to his old sports, fitness and outdoor industry stomping grounds to speak at the Sports and Fitness Industry Association (SFIA) Industry Leaders Summit in Baltimore. The Leadership Summit was made up of executives and is a forum for discovering innovations. Paul spoke about How the Consumer Voice Influences Demand, detailing trends from 169,000 reviews in the running footwear and athletic apparel space.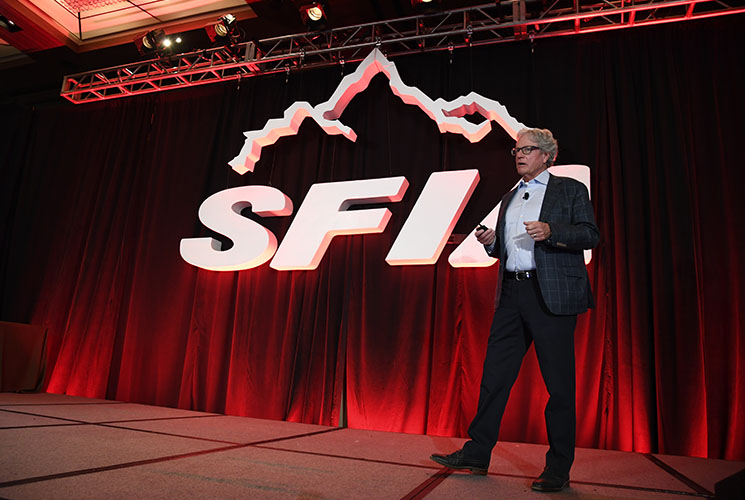 Of his presentation, SFIA President and CEO Tom Cove stated:
"Paul's presentation to our Industry Leaders Summit was interesting, relevant and right on. He cut through the generic observations about product reviews and offered valuable insights to what consumer are saying. Paul offered a rich, deep analysis of the consumer voice, and spoke directly to how marketers can really benefit from the nuance of what consumers say in product reviews. We heard from attendees that it opened their eyes and gave them practical, tangible direction in appreciating what consumers are actually saying."
The Running Event in Austin
At The Running Event (TRE) in December, Paul also presented to a captivated audience, this time made of specialty retailers. TRE is the premiere conference and trade show for running-focused retailers. Analyzing the market conversation about 5 major running shoe retailers and over 76,000 reviews, Paul uncovered actionable insights for his audience.
Founder of The Running Event Mark Sullivan praised the seminar:
"Channel Signal's presentation was informative and engaging and provided actionable insight on what runners are saying about product and shopping at specialty retail."
Top 10 Blog Posts of 2019
Channel Signal's blog continued to receive high readership and interaction throughout 2019. Some of our top articles of the year included:
The Future of Reviews in 2020 and Beyond
2020 is the Zodiac year of the Metal Rat.
Our prediction? 2020 will be the year of the review. Not the year of brands getting reviews on their own site. Not the year of responding to reviews. The year of actually turning often overlooked product review data into insight in order to:
Go to market with the consumer conversation.
Track the competitive landscape.
Validate product changes.
What will you do with product reviews in 2020?