This is an archived post. Channel Signal's product review aggregator can help brands make decisions based on user experience. Check us out at
www.channelsignal.com
.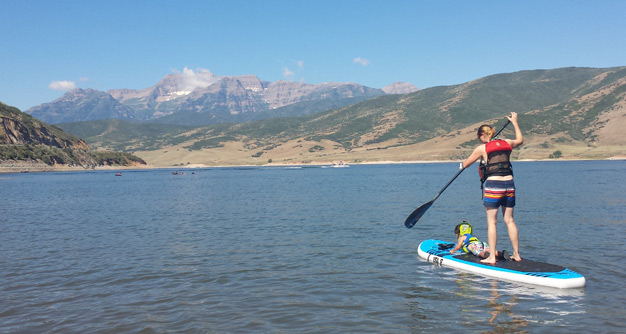 As you know, Stand Up Paddle Boarding, or SUP, is the act of standing on a long board and using a paddle to move through the water. While it could be argued that the sport has been around for thousands of years, SUP as we know it today began in the early 2000's. Like many surf and paddle sports, it has origins in Hawaii and California that grew out of surfing. But the big question on our minds here at Channel Signal is, how big is the sport of stand up paddle boarding, and is it headed for a growth or a slow down period?
Modern History of SUP
1940's – First documented photographs of Stand Up Surfing emerge from Waikiki (1)
2003 – "Beach Boy Surfing" (aka Stand Up Surfing" added to Buffalo Big Board Contest at Makahana Beach. A photo of Laird Hamilton was picked up by surfing media. (2)
2004 – Rick Thomas credited with bringing SUP to California from Hawaii (2)
2007 – Standup Paddle Sports is the first dedicated SUP store in North America (2)
2008 – The U.S. Coast Guard officially classifies SUP boards as vessels (3)
2013 – SUP has the most first-time participants of any sport in the USA (2)
Statistics on the Growth of Stand Up Paddle Boarding
1.2 Million
Number of people who tried SUP in 2011, up 18% from 2010 (4)
9.6 Million
Number of outings SUP participants made in 2012 (6)
15-20%
Percent of business kayak retailers attributed to SUP in 2012 (5)
$1,100 
Cost of an average board, driven up by the use of epoxy material (5)
43%
Number of female participants in 2012 (6)
Interest in SUP Online
As you can see from Google Trends, which provides Google search trends over time, the growth of SUP-related searches has seen a great upswing. Google also provides a forecasting tool where the trend is expected to continue rising. Compare this to the same timeframe for other traditional water and paddle sports, and you'll see an opposing view.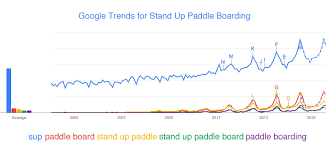 ---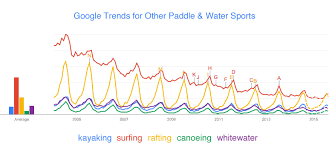 In short, we all know that consumers are the biggest driver of sales for any industry, but the predicted interest of consumers over time is enough of an indicator for us to say that this sport of SUP isn't going away any time soon.
References:
(1) www.standupjournal.com
(2) www.supworldmag.com
(3) en.wikipedia.org
(4) www.reuters.com
(5) www.time.com
(6) www.outdoorfoundation.org