As a 240 year old company, you can imagine Birkenstock has had to overcome a gamut of issues in its lifetime. In today's changing face of global e-commerce, Birkenstock has been presented with a new challenge for the ages.
To stay relevant with sites like Alibaba and Rakuten, Amazon is now allowing Chinese manufacturers to sell directly to consumers. As a result, counterfeit products are becoming rampant. If a brand like Birkenstock wants Amazon to do anything about it, they basically have to commit to selling their full catalog of products on Amazon.
Not wanting to list its full catalog, Birkenstock tried to work with Amazon to resolve the counterfeit issue time and time again. But after being undercut in price by counterfeiters and no doubt hearing consumer complaints about the quality of the knock-off product, Birkenstock has decided to quit Amazon.
They Quit. Now What?
The outcome? 5 months from now, if you want a pair of Birkenstocks on Amazon, you'll be buying fakes. Luckily for Birkenstock, they are not beholden to stock holders and they sell on a plethora of other sites such as Zappos, Dick's Sporting Goods, Backcountry, Famous Footwear, Shoe Buy, DSW and dozens more.
Early Warning Signs of Counterfeit Products on Amazon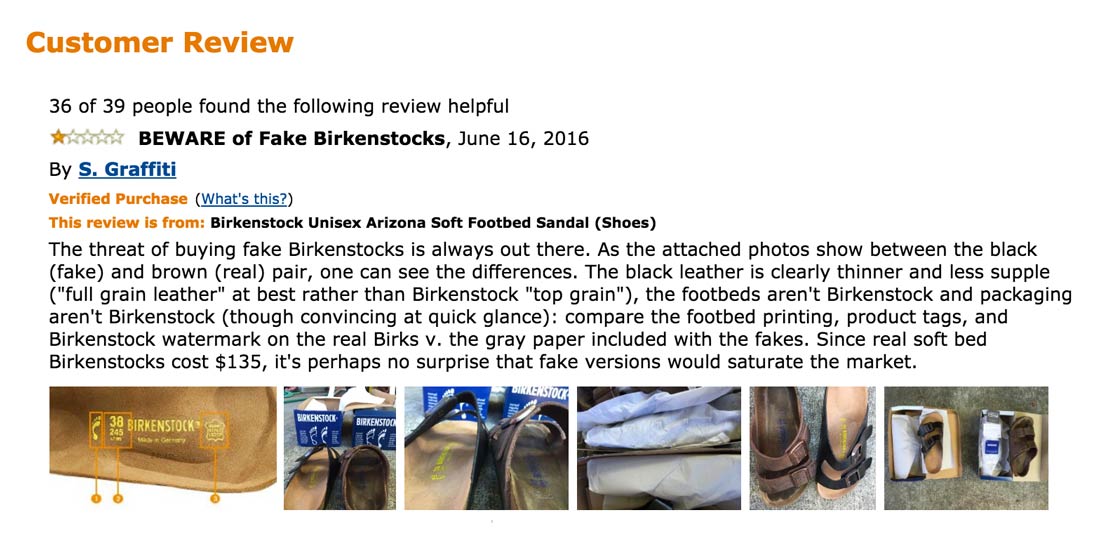 The earliest warning sign that counterfeit products may be infiltrating your supply is going to be from your customers via product reviews.
First, mine your online sales channels for a surge in words like "fake", "counterfeit" and "knockoff". Second, utilize a product review aggregator and make sure it can track all sites including Amazon.
Channel Signal's platform has uncovered product reviewers complaining about "fake" and "counterfeit" products for its customers time and time again. Some verticals are going to be more susceptible to counterfeit than others. Within Channel Signal's cumulative dataset, the highest percentage of product reviews talking about counterfeit product are within these verticals:
Eyewear – 2.01%
Hydration – .53%
Personal Electronics – .45%
Apparel – .26%
These percentages are not significant unless you consider our dataset, which is large. So, a half percent of 200,000 reviews is 1,000 reviews about fake product that consumers are reading. If you're interested in seeing what percentage of your reviews are discussing counterfeit products, we would be happy to set up a one-time report for you. Just shoot us a line.