Maintaining the integrity of a brand is one of the most challenging roles any marketing team faces. Counterfeit products are not anything new, and as we reported last week, companies like Birkenstock and others are doing their part to put an end to counterfeiting online. No matter what you call them—knockoffs, fakes, or imitations—thousands of brands have issues with vendors selling counterfeit products.
Fortunately, there is a way to get ahead of counterfeit products online. Surprisingly, the resource is your own customers. Brand-loyal customers are your best source for finding counterfeit products online. Often, these consumers will leave reviews in response to a recent purchase. They know the difference between the brand's product and the counterfeit product and will let the company know  by leaving a product review on the seller's website or one of their e-commerce partner sites.
How to Find Counterfeit Products Online in 5 Easy Steps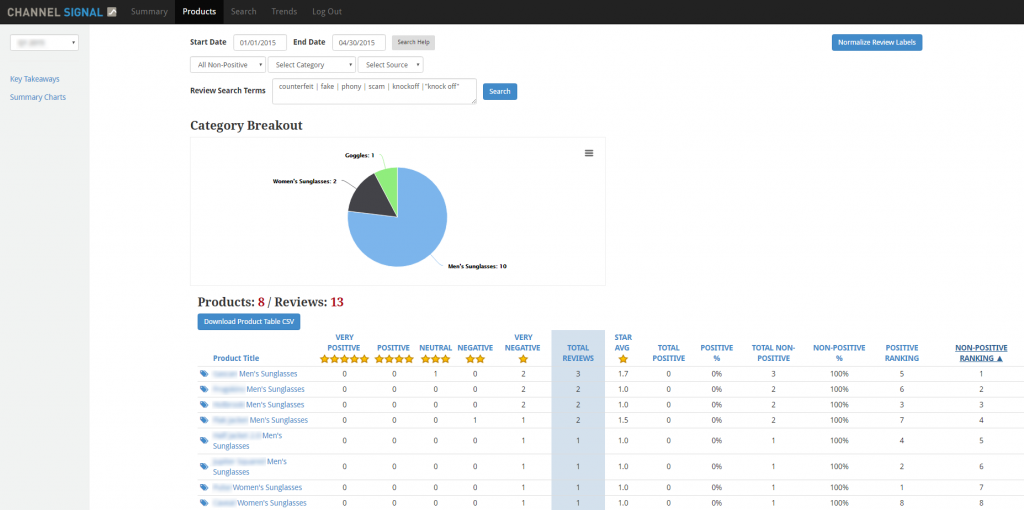 Log into your Channel Signal Product Review Monitoring platform
Open Products tab
Enter your search terms. To search for counterfeit products, your search may look something like this: "counterfeit, fake, phony, scam, false, knockoff, knock off"
View your products that mention "counterfeit" related terms.
Click on any product to read the reviews, diagnose the problem and discover the counterfeiters.
Then, take action.
Because we are able to collect reviews from all e-commerce platforms, our clients are able to do a simple search to find product reviews that discuss counterfeit complaints. Below is one of 16 reviews our software found for a popular sunglass company.
Source: Amazon
by Erik
Fake Men's Sunglasses

The [Sunglasses] I received are fakes. I purchased the [Sunglasses] with the polarized lenses for $210.00. [The Company] pretty much has a set price for their sunglasses. Non polarized [Sunglasses] should cost $150.00 and polarized [Sunglasses]s cost $210.00 no matter where you buy them.I have owned many [The Company]'s and was cautious when I opened the box, the assumed [Sunglasses] I received seemed flimsy so I decide to go to a store near by to compare. The fake [Sunglasses] have screws by the nose and the real [Sunglasses] do not. Also the temple pieces are different between the real [Sunglasses] and the fake [Sunglasses]. Real [Sunglasses] just seemed more sturdy than the fake ones I got from Amazon.Real polarized [Sunglasses] lenses will have a sticker saying polarized and the real [Sunglasses] I bought have polarized printed on the left lens.The [Sunglasses] I received from Amazon were clearly fakes. The images show the screws by nose piece for the fake [Sunglasses] and no screws by the nose for the real [Sunglasses].
We believe that a brand's customers are the most valuable resource in a company. This also goes well with understanding the true voice of the consumer. The above example is one of many use cases where the Channel Signal platform is superior in helping brands find opportunities to address customer concerns quickly as well as find actionable insights they may not have previously had access to.
Our analysts provide support for all of our clients, and will often alert you to counterfeit problems before you even realize there is one. If you need assistance on learning how to spot counterfeit products coming from your e-commerce partners, please reach out to your assigned analyst.