Remember the great Vans shoe debate of 2017? If not, let's quickly cover the basics. Twitter was aflutter debating whether the lace-ups pictured below were pink and white; or grey and teal. It turns out they were indeed pink and white, and poor photo quality caused people on 'team teal' to see the image differently due to their individual light sensitivity. All this to say, there were two camps in this debate: pink/white and grey/teal—and no in-between.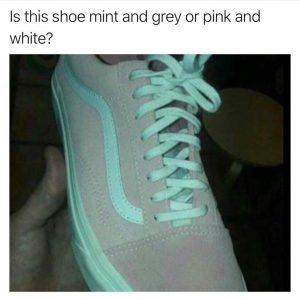 When it comes to product reviews, the same phenomenon tends to occur. Product review channels are filled with positive and negative feedback and the missing middle ground is often an unbiased opinion that truly reflects the product's performance. Product reviews can also be laced with emotion—and, typically, people trust negative reviews more than positive ones because they are deemed more informative, regardless of their accuracy. Studies show that consumers use negative reviews to understand the risk of purchase and to reduce loss. With reports that five-star reviews are frequently fake, digital shoppers tend to rely more on negative reviews because they seem more 'real.'
So, this brings us to a major flaw of consumer reviews—customers are always asking themselves, "Can I trust them?" Syndicated, sponsored, and fake reviews have contributed to rightfully jaded consumers who are likely to abandon their carts without the confidence to hit the Buy Button. Let's take a quick look at these reviews to show how misinformation plagues consumers who want honest feedback. 
Syndicated Reviews 
It's estimated that retailers receive an average of 58% of their review content from syndication. However, syndicated reviews don't fully account for the fact that consumers like to do their research by checking out product reviews, and they may read the same review across multiple sites. If a customer catches onto this, it can negatively impact your brand. Reusing review content can also negatively impact your pages' search rankings.
Sponsored Reviews
Take a quick scan of Instagram, and you're more than likely to see products being promoted by all levels of influencers who are paid to post the so-called latest, greatest products. These endorsements carry a lot of weight with eager digital shoppers looking for a specific lifestyle. Sponsored reviews work similarly—brands pay people (especially bloggers) to trial products in exchange for (positive) reviews. The problem: over time, these reviews can kill your brand credibility, skew your actual product ratings, and ultimately your product performance data. 
Fake Reviews
Fake reviews are illegal, but it doesn't mean that they aren't flooding online shopping communities. These reviews diminish the credibility of your brand and products, and they are prevalent—with 92% of consumers aged 18-34 saying they've seen a fake review.
The key to fostering a culture of unbiased feedback is to cut through the review noise—to showcase true, quality reviews over syndicated, sponsored, and fake reviews—and give consumers easy access to credible info that will lead to more confident buying decisions. By empowering consumers with transparency, they are more likely to contribute their own honest feedback because they know real-life consumers will benefit from it.
That's why we designed the C2C Score and our Brand Experience Platform— to deliver unbiased, verified, real reviews. Digital buyers get an accurate representation of the product they're after—the true colors of the product without the pink/white, grey/teal debate—and they can rely on a product score that's based on clean, validated, and duplicate-free consumer reviews. At the same time, brands get a full picture of product performance based on confidence-inspiring data that's unbiased, definitive, and actionable. Through simplicity and honesty, we give consumers what they want: confidence in their purchases.
See the C2C Score in action here.