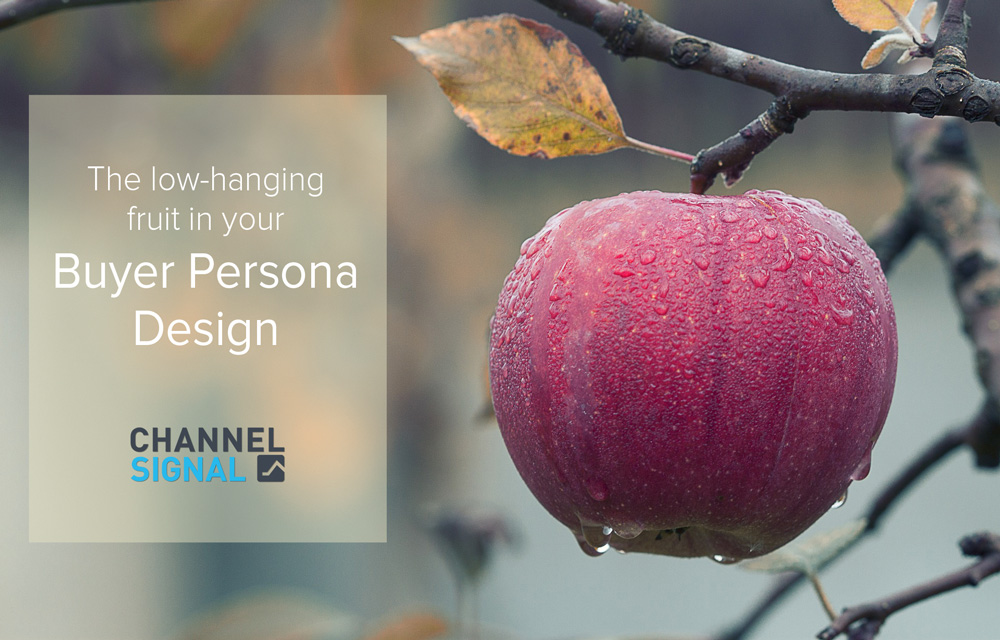 When designing buyer personas, guidebooks often recommend gathering information by finding people to interview. They talk about searching for candidates on sites like Craigslist. They even suggest offering an incentive in exchange for the interviewee's time.
But why should you have to find and vet people to interview when you have buyers who've had real experiences with your products?
Understanding Your Buyers
Let's take a step back and look at the purpose of buyer personas.
It's more important than ever to know your customer, what they care about, and what motivates them. This information should flow freely throughout your organization, from top to bottom. Every endeavor you undertake should start with your buyer.
With this in mind, it has become a popular practice for marketing departments and product managers to create buyer personas. The thought is that this document will help the organization picture the ideal customer, and that the outcomes—everything from messaging to media buys—will perform better with the target audience.
Buyer personas help inform:
Marketing and sales plans
Packaging and web design
Company-wide messaging
Sales strategies
Brand and re-brand strategies
Marketing campaigns
Social media audiences
Media buys
and more.
When Buyer Personas are not Usable
All too often, the outcome of this effort has felt…generic. Buyer personas that are too simplistic are not only unusable, they could pigeonhole your brand, kill efforts to appeal to a diverse audience, and ultimately do more harm than good.
Your buyer personas should not remain static. Many sources should be used to inform a well-rounded, ever-evolving persona that moves in lockstep with your ever-changing buyer. You may even have a multitude of buyer personas with each category or major product.
A Well-Rounded Buyer Persona Design
[one_half]Demographic Information:
Where they live
Gender
Age
Race & ethnicity (if appropriate)
Career & Family Information:
Occupation
Career history
Education
Household income
[/one_half][one_half_last]Interests & Personality:
What they read
What they do in their free time
Social networks
Personality
Style
Experiences with Your Products*:
What do they like about your products
What do they dislike
Pain points your products solve
Alternative use cases
[/one_half_last]*The easiest way to get this information is by aggregating and analyzing your product reviews.
What Product Reviews Can do for your Buyer Persona Design
Buyers are writing about their experiences with your brand and product(s) in product reviews. These critical pieces of feedback contain a wealth of information and cues about your buyers that can be used in the design of your personas. In fact, we think using quotes from or snippets of review text is a very effective way to get a buyer's persona across to your team.
1. Identify the pain points you solve for buyers.
Often, the text of product reviews will contain cues about why your product was purchased.

"I can finally get back to cooking a full meal now that I have this baby gate. No more worrying that Junior is going to scuttle up the stairs and hurt himself while I'm taking something hot out of the oven!"
Words that are repeatedly found can be turned into "magnet words", used to attract your target audience's attention.
2. Incorporate your buyers' vernacular.
We appreciate the way people come up with their own language to talk about what they love (or hate). The language you use internally to describe your products might not match what your buyers use.

"I'm a SAHM and like to BF my LO in our living room, but my 19 month old DD doesn't sit still. When my DH installed this gate and it gave me peace of mind that DD wasn't going to get into mischief or danger. This thing is a life saver."
This post is riddled with acronyms and vernacular, like SAHM (stay at home mom), BF (breast feeding), LO (little one), DD (dear daughter), DH (dear husband), and "peace of mind". These are words that are common and important in the language of this buyer and her community.
3. Discover new use cases.
Sometimes people do not use your products for their originally intended purpose. You might be designing and marketing to one use case, when there's a whole new market for you to tap!

"I know this is a baby gate, but we don't even have kids. Our kids are our pets, and I give this five stars for being the one and only pet gate that can span the wide archway in our living room as well as a standalone containment for when we're camping. Other pet gates I've found can't do both of those things."
If this review were an isolated incident, you might not take action to incorporate it. But if you are noticing this alternative use case—using a baby gate as a pet gate—as a trend across many reviews, it's time to consider creating a new persona for this market segment.
4. Find out who your ideal customer isn't.
One big benefit of utilizing product reviews in your personas is discovering who your detractors are and why. By looking at your negative (1 and 2 star) reviews and analyzing the text within them, you can gather cues about the type of persona who isn't ideal. Many brands use this to create a "negative persona".

"I only gave this gate 2 stars because the latching mechanism on the swing gate is so loose. My Great Dane can push it open! So we have to tie it shut which is a pain to do every time you walk through. Otherwise, it's a great gate. Looks very nice, tall enough with vertical bars so my 13 lb Shih Tzu mix can't climb it. I just wish the gate closure mechanism was more secure."
If the sentiment in this review was displayed enough times to become a trend, you may decide that users with large dog breeds would not be your ideal audience for this gate.
5. Create competitor personas.
Similar to negative personas, competitor buyer personas can be used to understand where you fit in the marketplace. This can highlight gaps that might be ripe for product or message refinement. Here's a competitor review.

"This gate is aesthetically pleasing, however it requires both hands to undo the door so I gave it three stars. Because the gate is made this way, you can't really open it while holding your little one, hence not entirely convenient for my purposes (or most people's for that matter). I am keeping it because it's already installed and it's too much of a pain to return."
Your competitor's buyers are complaining that the baby gate is too difficult to open while carrying their actual baby. However, you aren't seeing the same complaints with your products. Capitalize on this by featuring the "only lock that's easy to open one-handed". Use imagery of parents holding children in your advertising.