A few years ago, I was traveling through Sedona, Arizona on my way to the Outdoor Industry rendezvous in Scottsdale. I stopped for the night and ducked into a small art gallery to take a look. An artist was working on a painting of two wolves. She had not finished and I asked her to stop, that I would buy the painting as is. She was a little shocked and I said that saving wolves was unfinished business and that I wanted to buy the not completed work. She complied and I asked her to title it "Unfinished Business." Little did I know that this portrait of two wolves would be featured in this blog, Is Your Business Getting the Whole Picture?


We know brands understand that consumers move markets, especially online. Brands use product review data to innovate, fix, perpetuate winners and generally use reviews to guide their companies. 
Can you imagine making those decisions when only looking at part of the picture?
Take this for example. Amazon accounts for nearly 40 percent of the review volume for all consumer reviews in most marketplaces. Depending on the vertical, that percentage is even higher. Zappos is also a major producer of product reviews read by shoppers. Both do not allow syndication of their reviews. In other words, Amazon and Zappos do not want their reviews repurposed to other sites. They believe, and rightly so, that reviews generate revenue and they don't want their reviews going to Walmart to spike Walmart sales. 
Another example. From the beginning of 2020 to now, our Channel Signal data shows Amazon and Zappos account for 50% of the review volume for shoe retailer Skechers. In the energy bar vertical, which includes brands like Gu and CLIF, leaving out Amazon reviews would mean missing 58% of the conversation in reviews.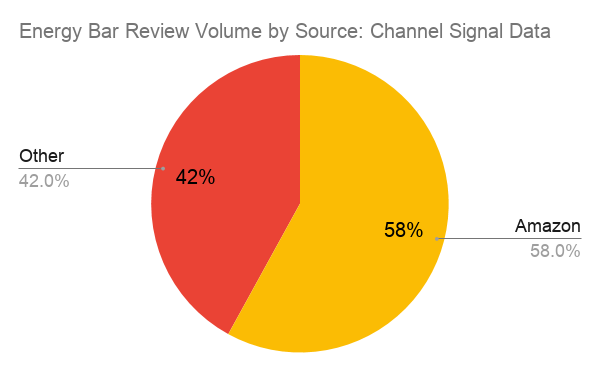 Needless to say, missing half or more of what the consumer has to say is going to skew the truth about a product's performance. Channel Signal looked inside the data from January 1 until now and picked CLIF's Builder Protein bar. The bar gets a Channel Signal score of 4.4 stars when Amazon is excluded from the review collection. When Amazon reviews are included the Channel Signal score is 3.8. Without the Amazon reviews, the brand would get a skewed view of one of their most important products and make decisions based on bad data. 
To emphasize the point, we used Channel Signal AI technology to look at data for the brand Kwikset. It's  a company that makes locks and door handles. Without Amazon reviews, positive sentiment comes in at 65%,  but adding Amazon reviews to the picture drops that sentiment to 54% positive. Included in that 11% decrease in positive sentiment is critical information that can be applied to fixing products. 
Collecting the opinions of all your significant online customers focuses you on the truth.

 


Channel Signal does that.