With a wealth of data at their fingertips but the continued desire to touch, see and discuss a product, consumers have embraced the omni-channel approach when shopping. This means they effortlessly move between online and offline channels. But how do consumer habits stack up against the priorities of today's marketing departments?
U.S. Marketing Spend vs. Consumer Trust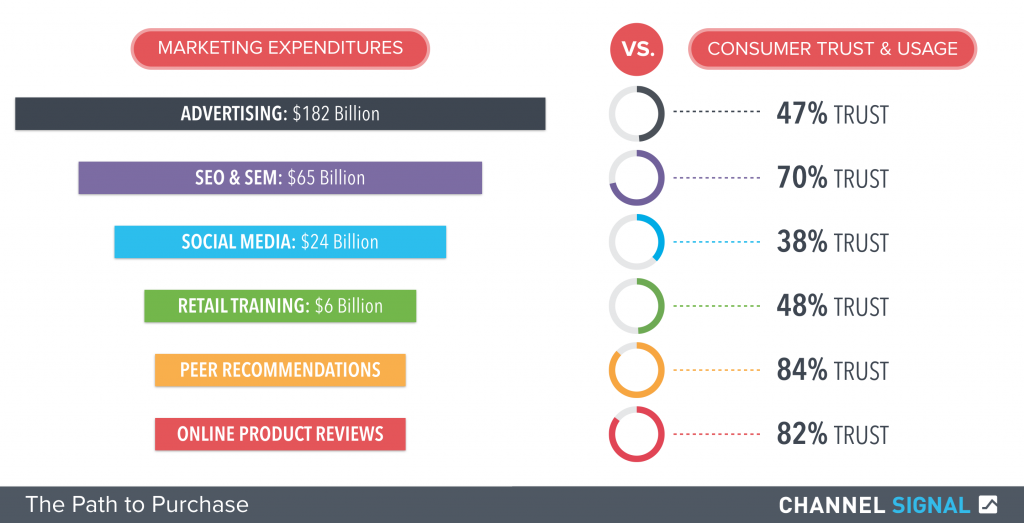 As you can see, there is a lot of financial support around marketing tools that have little trust from the consumer's perspective. The two with the highest trust – peer recommendations and product reviews – have such little spending there are no statistics available.
That's probably because peer recommendations are a difficult thing to influence without losing all authenticity. Fake parties. Fake conversations. Artificial to the point of turning off the consumer. That leaves product reviews. Reviews have the second highest percentage of trust at 82%. And they are used in both online and offline shopping. According to Pew Research, nearly half of Americans (45%) have used cell phones while inside a physical store to look up online reviews of products they were interested in. So, no matter where consumers are on the omni-channel path to purchase, you can bet that product reviews are going to have an impact on the final decision.
At 82% Trust, Why Aren't Brands Paying More Attention to Reviews?
Often, product reviews are lumped into social media. That is a mistake. Social media is the ongoing conversation about your company and much of it is stream of consciousness. There are not usually quality opinions about products to be gleaned. To be measured? Sure. Important? Yes, especially from the brand perception side.
But in contrast, product reviews are often thoughtful pieces of writing that back up the star rating on a specific product. Channel Signal has collected millions of product reviews for its customers and it's clear that this is an avenue for buyers to communicate their honest thoughts. There is not much slang. Not much sarcasm. Decent sentence structures.
Product reviews should be measured because they hit two critical areas. One, product and brand performance data that can be distributed to build a better product and company. And two, published peer-to-peer messaging, which is taken seriously by prospects considering a brand and its products
How Different Departments Use Product Review Data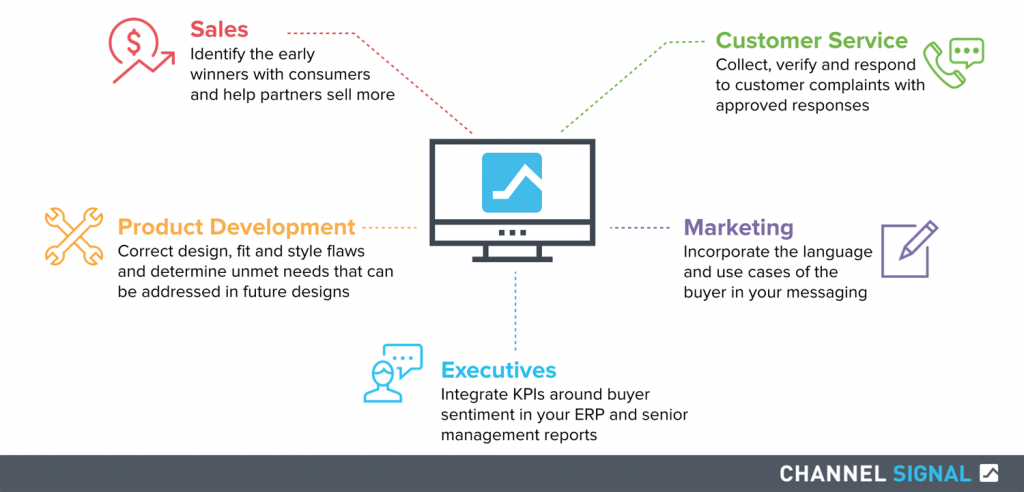 Product reviews are marketing analytics that impact all channels in the omni-channel approach. Product reviews can be measured and put to good use to improve products and sell more product. It's time for brands to take this piece of the omni-channel path to purchase seriously.
---