This is an archived post. Channel Signal's product review aggregator can help brands make decisions based on user experience. Check us out at
www.channelsignal.com
.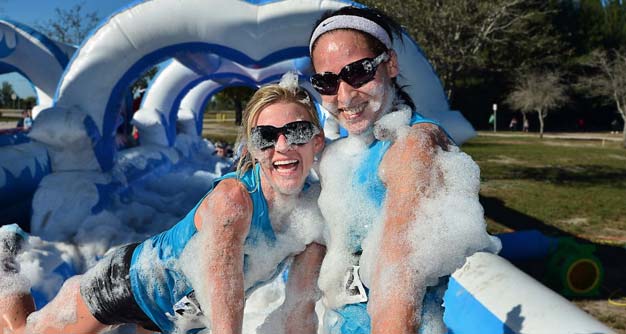 It seems all you hear about in the running world these days is those branded running events. You know what I'm talking about. The Color Runs, Warrior Dashes, Mud and Zombie Runs that have taken over our social media feeds. Channel Signal has done extensive reporting on the
social conversations happening around running
, and we have a monthly category report available to retailers and manufacturers. But you don't need to be an expert to understand the growth of running events. Here are some quick-hitting stats for your hump day.
Statistics on the Growth of Running Events
15.5 Million
number of race finishers in 2012 (56% of them female), up from 4.8 million in 1990 (when just 25% were women)
3 Million
number of participants in non-traditional runs in 2013, up from 2 million in 2012 and 1 million in 2011
$250 Million
estimated value of the obstacle challenge and themed runs industry
60%
percent of Color Run participants who have not previously run a 5k or longer
50%
percent of people who participated in obstacle and themed races who plan to participate again the next year
5, 6, 7
percent of the general population who have participated in obstacle challenges, marathons/half marathons, and themed runs, respectively
Running Event Interest Over Time
In terms of online searches, traditional events have had slow-but-steady growth, and still tower over the non-traditional events in terms of sheer volume. We only see a few notable spikes, and one major jump around the Boston Marathon bombing. Compare this with the explosive growth in searches for non-traditional races, and there you have it. Running events as a whole are growing, and we don't see any signs that they are slowing.
Traditional Running Events
Non-Traditional Running Events
Download 2014 White Paper: 
running-events-january-2014
References
Non-traditional runs keep growing, espn.go.com, October 23, 2013
The Rise of Themed Runs and Obstacle Challenges, Eventbrite, June 25, 2013
Bring on the Mud, Bring on the Fun: Eventbrite Survey Reveals Obstacle Challenges and Themed Runs Have Become More Popular than Marathons and Half Marathons, MarketWired, June 25, 2013
Google Trends for Non-Traditional Running Events, Retrieved January 9, 2014
Google Trends for Traditional Running Events, Retrieved January 9, 2014
Photo credit: 5k Foam Fest