If you've ever traveled to Thailand, you may be familiar with a phrase that's embedded in the local lexicon. It's on the tongues of travelers as they bargain with vendors, and emblazoned on t-shirts and tacky souvenirs. Same same but different. To lay it out for you, what this means is that two things that co-exist are both the same, or similar, and different, at the same time. Just look at this picture of Will Ferrell and Chad Smith, drummer for the Red Hot Chili Peppers, and it will become clear: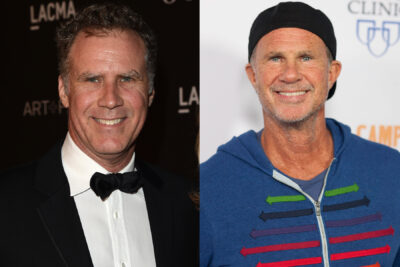 Image: Hollywood.com
Same same but different.
A tinge of sheltering in place wanderlust got us thinking of this phrase and how it relates to product reviews. Namely how aggregation and syndication are essentially same same (in this case similar) but very different. Let's take a quick deep dive into how both solutions work and look at how the different is what sets the same same apart. 
Syndication
Syndication is when reviews are taken from your brand's site and spread to other major eCommerce sites like Walmart, Target, etc. Think of it like papering your neighborhood with garage sale flyers—you're seeding the market with product reviews and spreading them far and wide. The problem with syndication is that reviews tend to lose value when they are widely duplicated and when your customers are seeing the same reviews in different locations it lessens their impact. Furthermore, as a retailer, your goal should be to bring consumers to your site and keep them there. When reviews of your products appear elsewhere, you run the risk that online shoppers read them there, but never visit your site. Essentially, syndication is a one-way street that drives traffic away from your site to other larger commercial sites with more traffic. 
Aggregation
Aggregation is when reviews are collected from across the internet to give brands a clear picture of product performance. Reviews are collected and filtered to deliver data on market performance on an individual product title level. Unlike syndication, the reviews are not pushed to any eCommerce sites. Instead, the data is collected and delivered as a metric (such as a score) to brands so they can learn more about their products and the customers who buy them. 
As you can see, aggregation and syndication are same same but different. At Channel Signal, we're focused on delivering the different and we do this through aggregation.
With the Channel Signal Consumer2Consumer (C2C) Score, we aggregate reviews—from major eCommerce sites—and channel them into one streamlined score. Reviews, written directly from consumers who have purchased from credible eCommerce sites, are collected, cleaned, and validated, and duplicates, empty comments, and fake reviews are removed. After we collect the reviews, we use stringent procedures to normalize down to the brand's product title. And then, we double-check with a Channel Signal expert. For real. A real-life expert with cred who closely monitors the eCommerce sites we collect from to uncover any inconsistencies that would affect the accuracy of our collections. When a brand partner looks at the collected reviews behind every product, they know with confidence that this is a true consumer opinion. 
We know that the internet is a noisy place and our job is to silence that noise. We do so by streamlining the info consumers need to hit that Buy Button. We weed through millions of reviews to deliver the goods: comments, star averages, and recency (the freshest reviews) and we score it—from Good Option to Reconsider. We put the C2CScore right at the Buy Button, right on your site. And when an online shopper sees the C2C Score, it's clear that it's the real deal—the verified truth which leads to faster, confident purchases. 
So, that's it. Aggregation vs. syndication. Same same, but our way is oh so different.