U.S. advertising statistics are drastically out of touch with what consumers trust when making a purchasing decision.
Brands in the United States are spending more on advertising than any other country in the world. To the tune of $182 billion.
Allow that number to sink in. Say it out loud. $182 billion spent on advertising. Even while the dollar allocation within that is being shifted away from traditional advertising and into digital, the number is still staggering.
Stats Show Brands are Following Consumers to Digital
Advertising statistics show that a shift is underfoot. In the next year, digital marketing spend is expected to rise 13.2%, with traditional marketing decreasing 3.2%. And that's with brands already spending a whopping $23.7 billion on social awareness strategies in the United States today.
Consumers Don't Trust Advertising and Social Media
Let's be clear, companies spend money to encourage consumers to consider their products and buy. And statistics do show that the more touch points a brand has with a consumer, the more likely they will be selected. However, when you look at consumer trust stats, in our view the money is misspent. Take a look at the graph below which shows where brands are spending compared to what consumers say they trust.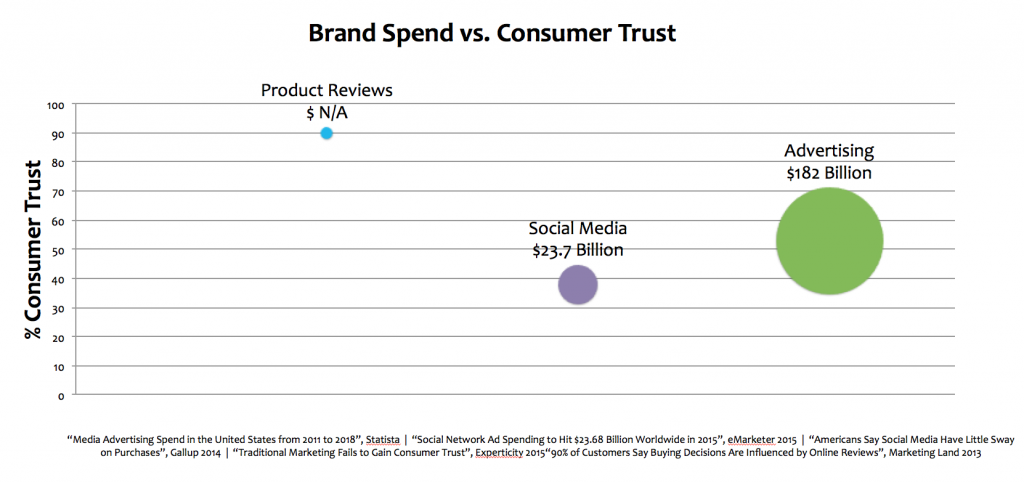 53% of consumers don't trust advertising. But it makes up the largest piece of a brand's budget.
62% of them say they aren't influenced by social media. Yet brands are spending nearly $24 billion.
90% of consumers do consult product reviews during the purchase process. Yet the brand spend here is such a small blip on the radar, there isn't even a reliable statistic behind it.
A Sea Change is Coming
Brands Should Shift Budgets to What Consumers Trust
As the purchase funnel demonstrates, there needs to be a larger, more dramatic shift in advertising spending to the Customer Experience Market.
Gartner defines the Customer Experience Management Market as "the practice of designing and reacting to customer interactions to meet or exceed customer expectations and, thus, increase customer satisfaction, loyalty and advocacy".
One essential metric in the Customer Experience Management Market for B2C Product Companies is Product Reviews. As they influence 90% of purchasing decisions, all brands in this space should be shifting some funds to monitoring their reviews.
The global consumer experience management market is projected to grow from $4.36 billion in 2015 to $10.77 billion by 2020. Brands must change with the times.
References for Advertising Statistics: