People—lots of them—are eating Tide Laundry Pods. On purpose.
There. I said it out loud.
I was almost too embarrassed to write this post, except that every word is true. In fact, there were 12,000 Poison Control calls for people ingesting laundry pods in 2017.
The stunt is one of many dangerous social media challenges that has arisen in recent years. It's tough to pinpoint the exact origin of the trend, but it stems from the fact that the pods look so much like gushy, fruity candy. This CollegeHumor video has had nearly 3.5 million views.
The challenge is starting to leech into product reviews and questions & answers for Tide Pods and other laundry pods…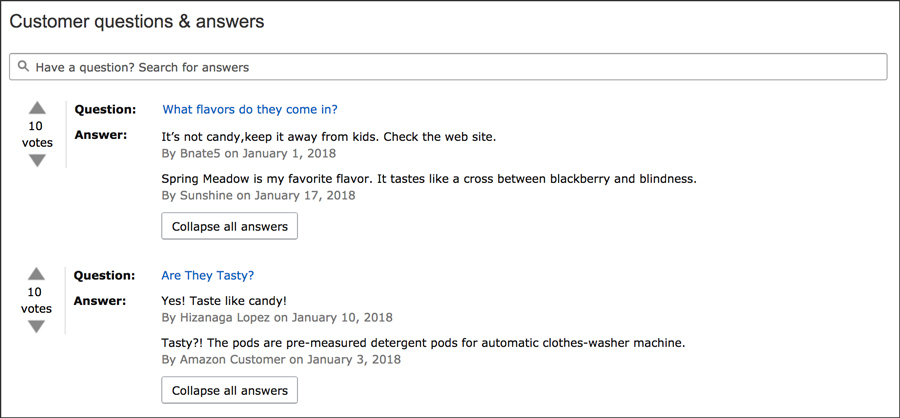 …which begs the question: in today's consumer-driven marketplace, what is the role of Amazon and other retailers in moderating consumer content that could perpetuate dangerous or controversial trends?
Amazon has made headlines for its new policies which crack down on fake reviews. They've also taken steps to remove "review trolls" who use the platform to make statements on everything from Ivanka Trump to Sandy Hook. Are reviews that promote dangerous social media challenges next?
According to Business Insider, as of January 12th, Amazon hasn't taken steps. As of that same date, poison control had received 40 calls about laundry pods in 2018.
Channel Signal's View
From our perspective, product reviews are a medium for both consumers and brands to get feedback about the post-purchase experience a buyer has with a product. We're all for free speech, but "joke" reviews like these do not serve either purpose, and have no business being published. We join legions of others in asking Amazon and anyone else perpetuating this dangerous trend to take steps now.
What Can Brands Do?
First of all, we commend Procter & Gamble and the Tide brand for taking quick action on this. They have made several public statements condoning this behavior. Just days ago, they also announced voluntary packaging changes to discourage the voluntary or accidental ingestion of the product.
Most brands have social media monitoring tools which can be an early indicator of dangerous trends using their products. Another metric that can be an early warning sign  is product reviews. Buyers who have a poor experience will often detail and share it in their product review. A good product review monitoring platform will serve as another ear to the ground for brands.