Walkin'
I'm walkin', yes indeed, and I'm talkin' 'bout you and me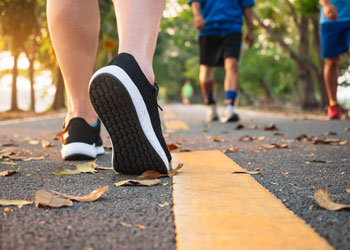 I'm hopin' that you'll come back to me (yes)
I'm lonely as I can be, I'm waitin' for your company
I'm hopin' that you'll come back to me – Fats Domino

These first lines by one of the great original rockers, hits so many notes during this pandemic; walkin', being lonely and hoping things get better.
One of the most consistent messages now is that people should be exercising for mental and physical health. In our Channel Signal review dataset we have seen an increase in the volume of women's sneaker product reviews, both from previous months in 2020 and compared to the same time period last year. In the reviews, people are talking about miles, distance, a shoe's "cloud-like" comfort, walking their dogs, walking on trails, walking in the city and the fit of their walking shoes.  
In Seattle, a city hit hard by the Covid-19 pandemic, there is a huge uptick in people walking because under stay at home orders it's one of the only outside activities that is safe and allowed. In New York City, streets have been closed to traffic to allow more room for people to get outside safely and walk together with friends or family while maintaining the prescribed distance of six feet apart. 

The average star rating for women's sneakers in March, in more than 10,000 reviews, was a 4.4, with 72% being rated 4-star. Primarily, the reviews addressed comfort, loving the shoes and walking. One review read: "Love these! It's Coronavirus season and we're all stuck at home. My sanity is getting out for walks, but my old sneakers were getting really old. Took a chance buying online and I'm so happy!"
In terms of sheer volume in March our reviews and data shows 43.9% of the shoes purchased were women's sneakers (the runner up was women's sandals at 16.3%.) In March of 2019 women's sneakers accounted for 6.7% of the total volume (women's short boots accounted for 43.5% of volume.) The data for women's sneakers also shows an increase in percentage volume of 3.2% over February, proving that as we continue to deal with the coronavirus pandemic more people are turning to walking to get exercise and to remain socially connected while safe and outside.