The GoPro Hero5 was released on October 2, 2016 with a price tag of $399.99. As a company, GoPro has come a long way since it was founded by Nick Woodman in 2002, out of a desire to get better surfing photos on his trip to Australia. But GoPro has hit rough waters of late, prompting questions of whether the once darling of Wall Street has passed its peak of device novelty.
GoPro Stock Price Since 2014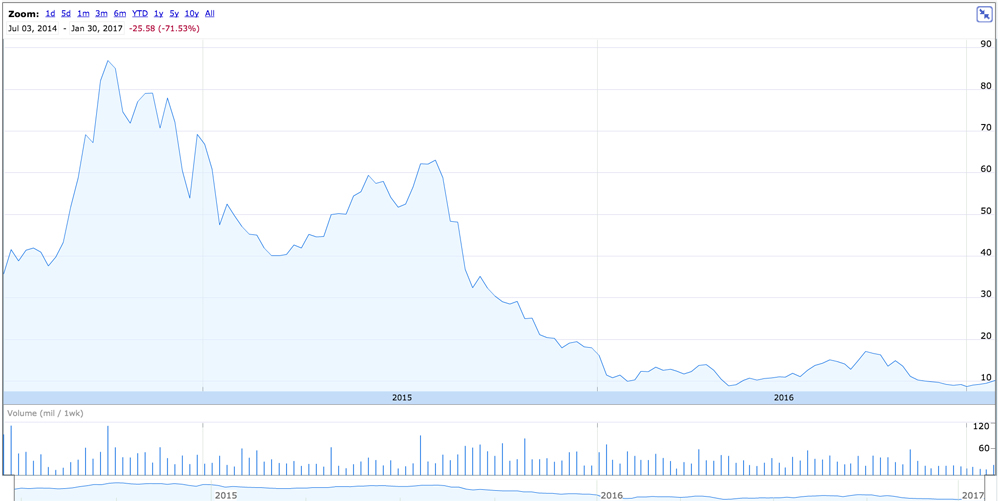 Search Trends for Hero4 vs. Hero5
And it doesn't seem the Hero5 will be the product to bring GoPro back to where it once was. The following Google Trends chart compares interest in the Hero5 at its release to the Hero4 at its launch in July of 2015. Interestingly, searches for GoPro as a general keyword are on a gradual upward trend.

1,653 Product Reviews Showing Hero5 Problems
The Hero5 claims to be the best GoPro yet. But what do consumers think so far? Channel Signal aggregated and analyzed 1,653 GoPro Hero5 product reviews from Amazon and Best Buy for the last 4 months. Of note is that a whopping 89.7% of reviews track positively (4 or 5 stars) whereas the average for Channel Signal's customers is just 80%.
So we are not seeing that the Hero5 is a problematic product comparatively speaking, but there are some clear problems worth mentioning. First, the battery life seems to be an issue and users are upset that they can no longer use third party batteries. Second, one component or the entire device flat out breaking on anyone is never a good sign. And third, price is a huge factor as it relates to competitors.
When the company is in such dire straits, every criticism counts. GoPro faces competition from everyone from Garmin to LG. And the biggest elephant in the room might be the smartphone.
We repeat, in a world where a separate camera device might be seen as a "nice to have" rather than a "have to have", and a world where up to 90% of people rely on product reviews, every criticism counts.
Review Volume & Overall Sentiment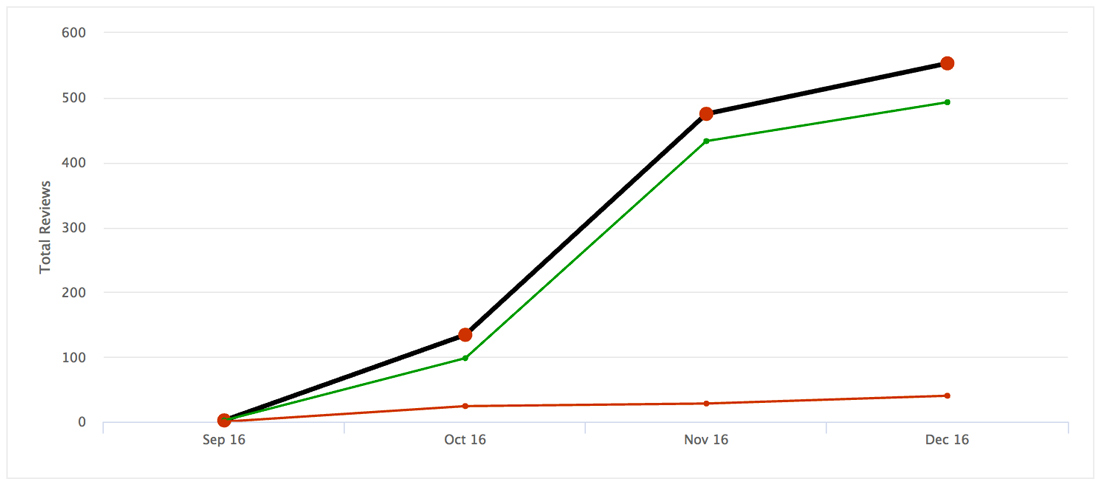 1,653 – total reviews on Amazon and Best Buy between September 1, 2016 and January 21, 2017
89.7% – total reviews that are Positive (4 or 5 stars)
4.53 – review star average
Battery Life

204 – number of reviews that mention 'battery' (12% of the total)
54 – number of reviews that mention 'battery' in a negative review (26.5% of battery posts)
3.95 – star average of reviews that mention 'battery'
"Left on charger overnight. Let it sit a day without even turning it on for first time. First power on and GoPro battery is at 94% A 6% drop in 1 day without having ever been on. Ok good thing I got some 3rd party batteries because once WiFi turned on this must blow thru the batteries. Play with it for awhile then link up with the Capture App. Firmware update. I was at 1.21 and it wanted to update to 1.55. Why? None of our business!!!! I hate companies that don't tell us the changes!!!! Update complete, now I get SD Card Error. Several reformats….still SD Card Error. Finally, reformat memory card in PC and that working again. But wait. Non-GP batteries don't work. Quick search shows the latest GoPrik firmware update was to steal the money spent on spare batteries." – W. Jones, Amazon Review
Breakage / Not Working

196 – number of reviews that mention 'breakage' or the like
74 – number of reviews that mention 'breakage' in a negative review (37.8% of breakage posts)
3.49 – star average of reviews that mention 'breakage' or the like
"Apparently this doesn't do anything without a bunch of other stuff. Needs a 64bit computer to run the software, that you have to buy. You have to buy the apps to do any editing. You have to buy a memory card. Very disappointing." – Kristin Olsen, Amazon Review
Price

171 – number of reviews that mention 'price'
38 – number of reviews that mention 'price' in a negative review (22.2% of price posts)
4.11 – star average of reviews that mention 'price'
"The Sony FDR X3000 costs the same but has better video quality compared to the GoPro 5 ESPECIALLY at night. The image stabilization is also steadier than the GoPro 5. The GoPro 5 is smaller but they are sacrificing video quality for it. The only edge the GoPro hero 5 has over the Sony FDR X3000 is the user interface. The mounts for the Sony FDR X3000 are cheaper than of the GoPro 5" – Omar, Best Buy Review
Conclusion
While Wall Street may not be GoPro's biggest fans, we believe there are a few things happening with their market. First, casual consumers may have purchased the GoPro Hero2, Hero3 or Hero4 in the past and either it's still working for their 4-5 annual adventures or they can't justify another $400 for the new version. So that leaves the die hards and newbies who are out front buying the Hero5 in these first few months.
The Hero5 has great reviews overall. But there are a few aspects that are not fairing well with users, and they're biggies: battery life, breakage and price point. The upshot here for GoPro is to measure their own consumer sentiment against their competitors to ensure they are winning out on all fronts.
Want to see the full report? Get it below.
---
Get the Full GoPro Hero5 Report Now!
See and analyze all 1,653 Hero5 reviews from Amazon and Best Buy.
[two_third]
Oops! We could not locate your form.
[/two_third] [one_third_last]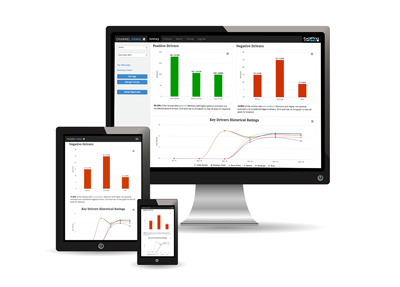 [/one_third_last]
---