Product reviews address real issues faced by the customer. When leaving reviews, consumers take time to craft well thought out and detailed reviews. Unlike social posts which tend to be a stream of consciousness, product reviews offer a hard metric companies can use to improve product design, new product development, sales and customer service.
Channel Signal has spent the last few months analyzing over 140,000 product reviews collected in our platform. Here are the top eight issues consumers have addressed.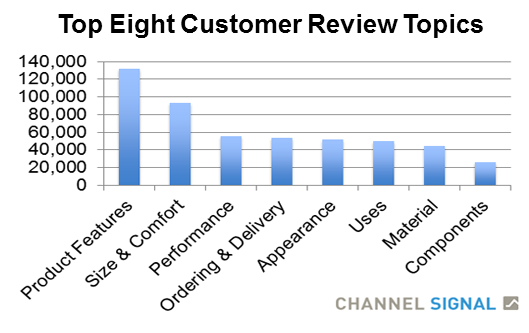 1. Product Features (131,000 reviews) – This is the largest category discussed by consumers.  They are vocal about a product delivering, or not delivering, on the features promoted in advertising.
2. Size or Comfort (93,000 reviews) – Size is a hot button issue for consumers. If size is mentioned, it typically trends toward negative.
3. Performance (56,000 reviews) – Performance tends to address the issue of how the over all product functions.
4. Ordering and Delivery (54,000 reviews) – Customer Service is a major discussion point in product reviews. Often the review will discuss how a product arrived (broken or missing parts) as well as the timing on shipping.
5. Appearance (52,000 reviews) – Consumers are sensitive to how a product looked online and what it looked like when it arrived.
6. Uses (50,000 reviews) – Often products are designed for a particular use, but consumers will talk about how they are using it differently. Often this tend to the positive.
7. Material (45,000 reviews) – Is the product carbon fiber, made from wool, glass or BPA free? Consumers care about what materials are used in the making of a product and tend to discuss this aspect when leaving reviews. They are disappointed, to say the least, when these materials fail to impress.
8. Components (26,000 reviews) – Consumers talk about these features when they are cold and wet…and to the positive when they are warm and dry. Components matter and consumers often know where to assess the praise or blame.
Pricing is a major concern for consumers, but Channel Signal believes that other factors drive the issue of price. How would your company use these hard metrics to improve?