US consumers are expected to return $101 billion worth of products purchased over the holiday season. Let that sink in, $101 BILLION. This is

forcing brands to evaluate their return policies and services. However, just because merchandise is being returned at a high volume doesn't mean that there is a negative connotation around returns. Assessing product reviews based on returns is one of the best ways to gauge why consumers are returning, and why.
Consumers are returning product for a wide variety of reasons: product is damaged, doesn't fit, doesn't match the product description, and many using their home as a fitting room purchasing different sizes/colors with the intent to return. This can result in product returns actually being a positive experience. Roughly 4% of product reviews mention returns. Of those reviews, consumers are increasingly talking about their returns in a positive light.
Several factors contribute to a positive return review. Customers that have a positive experience with their return are much more likely to give a good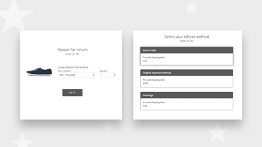 review. Free shipping, ease of the return, quickness of refunds or exchanging all contribute to that positive experience. Consumers can love a brand, but maybe not the specific product they receive. Those consumers are much more likely to leave a positive review, and to repurchase from that brand.
With online e-commerce, and online returns, at an all time high, it's crucial for brands to understand their customers views on returns and return policies to keep brand trust and confidence high.